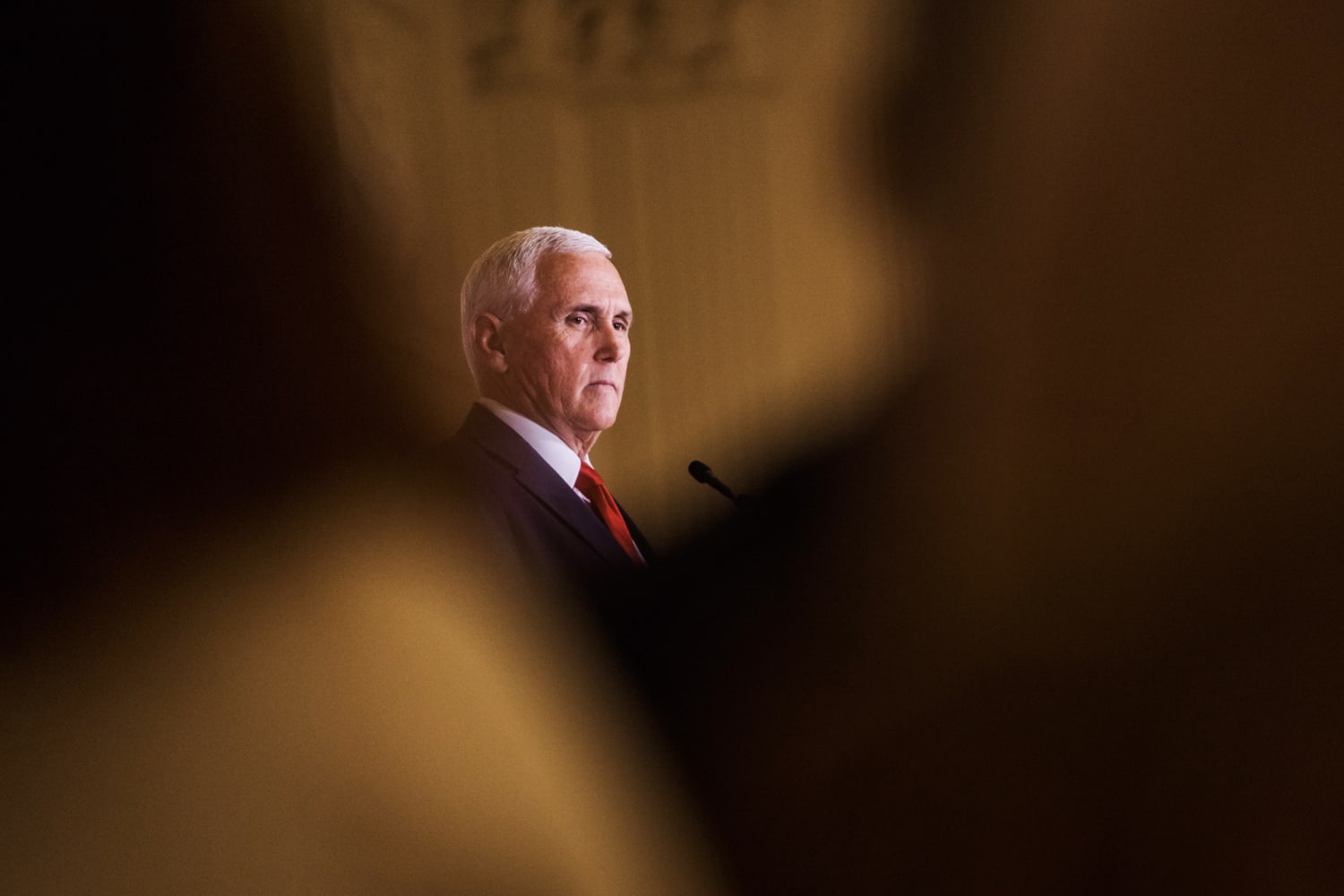 Former Vice President Mike Pence said Sunday that he'll make a decision on whether to launch a 2024 presidential bid "well before late June."
In an interview on CBS' "Face the Nation," Pence said anyone who is "serious" about seeking the GOP nomination in the presidential race next year would need to enter the contest by June.
"If we have an announcement to make, it will be well before late June," Pence said.
Asked if he's leaning toward launching a presidential bid, Pence noted that he's "here in Iowa" at the moment. Pence and a handful of Republicans who are or considering a run in 2024 are there for a Faith and Freedom Coalition event to take their pitches to religious conservatives in the state where the GOP will start its nominating process next year.
Asked about the likelihood that he'll run, Pence told NBC News in Clive on Saturday: "I promise when we have anything to announce, I'll let you know, but I will tell you, we're getting a tremendous amount of encouragement."
Pence was the governor of Indiana before he became vice president in the Trump administration, and he also previously represented the state in the U.S. House.
If Pence launches a bid for the GOP presidential nomination, he would enter an already crowded field that includes his former boss, Donald Trump; former South Carolina Gov. Nikki Haley, who served as U.S. ambassador to the United Nations in the Trump administration; former Arkansas Gov. Asa Hutchinson, entrepreneur Vivek Ramaswamy; and conservative talk radio host Larry Elder.
Florida Gov. Ron DeSantis, who hasn't officially announced a presidential bid, is also expected to enter the contest. His team has begun internal discussions about delegate strategy as part of a plan to run against Trump for the long haul, NBC News reported this month.
Across the aisle, President Joe Biden has repeatedly stated his plans to run for re-election. Biden is preparing to make his intention to seek a second term official this week, with advisers planning to launch his re-election campaign as soon as Tuesday, three sources familiar with the plans told NBC News.
Pence has clashed with Trump over his refusal to go along with his former boss's baseless claims of widespread fraud in the 2020 presidential election. Despite Trump's attempts to influence him, Pence certified Biden's electoral win hours after the attack on the U.S. Capitol by Trump supporters on Jan. 6, 2021. At the time, he cited his constitutional duty to oversee the official count of electoral votes in Congress.
Some rioters were heard chanting "Hang Mike Pence" as the attack unfolded, and came close to where Pence sought shelter with Secret Service agents. The former vice president was also booed in his home state this month as he delivered remarks at the National Rifle Association's annual meeting.
Pence left the stage at the event to a mix of boos from some Trump supporters as well as applause from others. In response to Pence's mixed reception, Trump said he "heard it was very rough."