DES MOINES, Iowa — More than a half-dozen Republicans who are or may be running for president took their pitches to religious conservatives at an Iowa cattle call on Saturday that's long been one of the premier stops on the GOP primary calendar.
Before a 1,000-person crowd at the Iowa Faith and Freedom Coalition's spring kickoff, a bevy of midtier candidates seeking to break out of the pack mingled with attendees, many of whom were influential activists across the state. They called for new restrictions on abortion rights and gender-affirming care, and for expanding school choice programs and shutting down the Department of Education.
"The battle against radical gender ideology is a battle for religious freedom," former Vice President Mike Pence told the crowd. "And it's a battle that we must fight."
The event was headlined by Donald Trump, who addressed the crowd via a prerecorded video. Absent were Florida Gov. Ron DeSantis, who was addressing the Utah Republican Party's convention, and former U.S. Ambassador to the United Nations Nikki Haley — two contenders who often poll second and among the top five, respectively, behind the former president among GOP primary voters. Their absence offered more space for candidates and prospective candidates like Pence, South Carolina Sen. Tim Scott and multibillionaire entrepreneur Vivek Ramaswamy.
Attendees also heard from presidential candidates Larry Elder, a conservative media personality and failed California gubernatorial candidate, former Arkansas Gov. Asa Hutchinson and Perry Johnson, a businessman who failed to win the GOP's gubernatorial nomination in Michigan last year. Former Reps. Will Hurd of Texas and Tulsi Gabbard of Hawaii, who left the Democratic Party in October, gave the appearance they, too, may be interested in a presidential bid, merely by appearing at the Iowa showcase.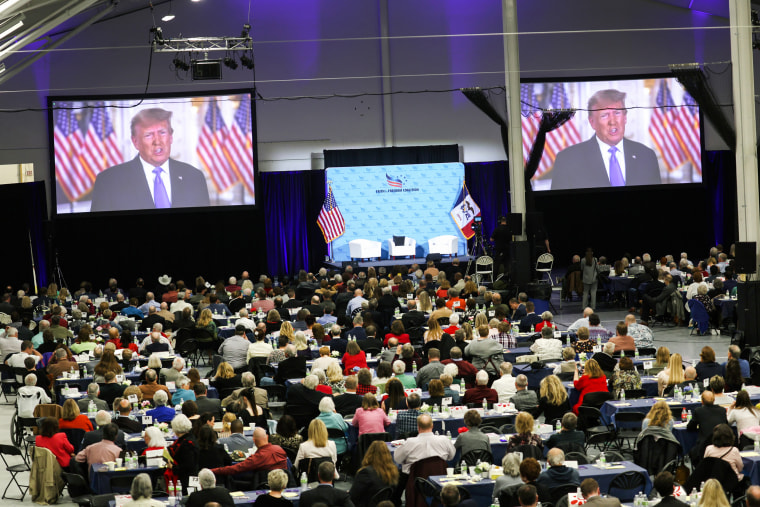 The constituency at the Faith and Freedom event is key for Republicans. More than 9 in 10 Iowa Republicans identify as Christian, according to Pew Research Center data. In 2020, 3 in 4 white evangelicals backed Trump, a slight dip from 2016, exit polling shows. 
If there's a crowd receptive to an anti-abortion message, it would be the voters gathered here. Candidates at the Saturday forum expressed their anti-abortion bona fides but did not get into the weeds for what specific policies they would enact in office.
"Most important of all, we appointed three justices to the Supreme Court of the United States that sent Roe v. Wade to the ash heap of history where it belongs," Pence said. "You did that Iowa. And you've given America a new beginning for life."
The person who spoke most extensively on abortion was Trump, who has in recent months sought to distance himself from the stringent restrictions being advanced at the state level, though the overturning of Roe v. Wade was only made possible by his three Supreme Court appointments. The anti-abortion rights group Susan B. Anthony Pro-Life America last week blasted Trump for saying abortion should be decided at the state level.
Touting the justices he nominated to the high court, Trump also promoted his "historic action to protect the unborn" and called himself "the most pro-life president in American history.
"I will stand proudly in defense of innocent life, just as I did for four very powerful, strong years," he said. "Because every child born and unborn is a sacred gift from God."
Speaking with reporters, Pence said there was room between the former president he served and himself over how abortion should be handled. Of Trump saying abortion rights should be determined at the state level, Pence said, "I don't agree with the former president who says this is a state's only issue" and expressed support for a federal 15-week ban.
"We've been given a new beginning for life in this country," he said.
Much to the chagrin of some Republicans, abortion has been a hot topic in the party since the Supreme Court overturned the constitutional right to abortion last year, and the 2022 midterms that were in large part defined by the issue. The Republican Party is now seeking to balance the desires of its anti-abortion base with the electoral realities in the general voting pool, where abortion access remains much more popular.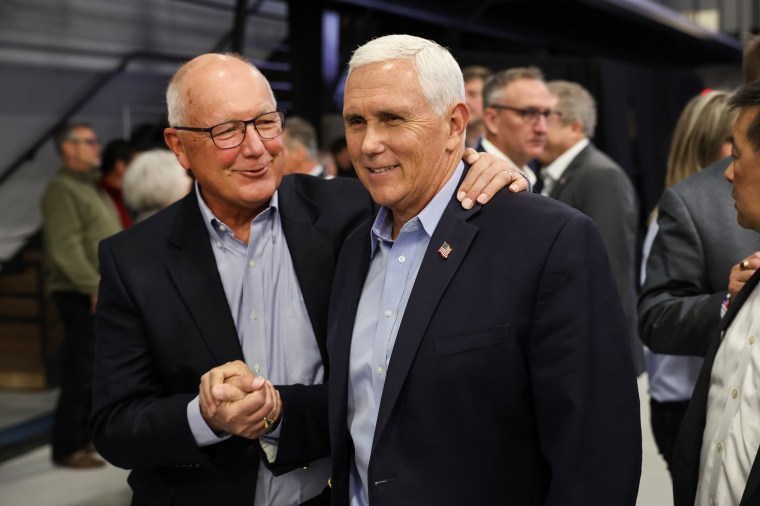 Voters and candidates at the event said they remained steadfast supporters of anti-abortion policies but acknowledged some of the challenges they face in broadly trying to enact the agenda.
Iowan Ruth Neubert of Oskaloosa told NBC News she believes "some of our Republican friends have gone too far.
"I am with three granddaughters and one daughter," she said. "I definitely have an opinion that if something would happen, incest or rape, absolutely that avenue should be available."
Ramaswamy, meanwhile, told NBC News that Republicans need to expand on an agenda that also promotes pro-adoption policies, boosts child care and has "greater accountability for men.
"My view is that more Americans are pro life than will admit it even to themselves," he said.
Ahead of the event, Democratic National Committee spokesperson Rhyan Lake condemned the gathering as a roundup of "MAGA Republicans who've spent their entire careers pushing for an extreme agenda.
"Each and every 2024 Republican has doubled down on their exceedingly extreme positions that are out of step with hardworking Americans and can count on being held accountable by voters," Lake added.
Some attendees and speakers made note of the high-profile contenders who passed on attending the spring kickoff, which in 2016 drew Sens. Ted Cruz of Texas, Marco Rubio of Florida, Rand Paul of Kentucky and Wisconsin Gov. Scott Walker, and a host of other Republican presidential aspirants. (Trump, who had yet to declare at that stage of the election cycle, was not present.)
Johnson, a long-shot candidate who has not registered in polling, took a moment at the end of his allotted time to say he thought "DeSantis is making a huge mistake by not coming here."
Iowa Attorney General Brenna Bird, who served as a moderator on Saturday, told NBC News before the event that she did not think much of the absences, attributing them to scheduling issues. But she said the gathering offers candidates a chance to connect with many key activists across the state at once.
"There are some great leaders in that crowd, community activists, volunteers, people who put their blood sweat and tears behind a candidate," she said. "And so winning the support of those key activists from around the state I think is very important to a successful caucus campaign."
Voters and activists who attended said afterward they were particularly intrigued by Scott and Ramaswamy, who most said they had not heard from before.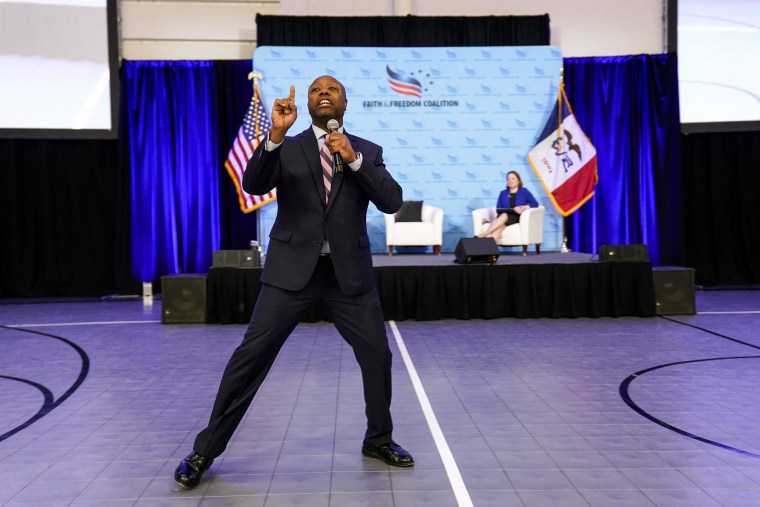 Lynn Proudfoot, a GOP activist from Des Moines, said he was "disappointed" DeSantis was not at the event but said he is still undecided on whom to back in February's first-in-the-nation caucus. He said he was impressed by Ramaswamy and said the candidates broadly hit on every appealing note for religious voters.
"I can't say I'm much closer to a decision than I ever was," he said. "Going to have to just continue to let it play out. … I don't think that anybody really was a downer."
But while some remained undecided, others said it would be difficult to vote against Trump in a primary.
"I have so many people telling me that they don't like Trump and they'd never vote for him because they don't like him," Mike Vanderpool, a member of the Warren County Republican Central Committee, said. "I was in business my whole life and probably my best employees I never did like. I get that. I mean, you've got to swallow hard sometimes to get what you want.
"When this guy was president, there was never a day of the week that I didn't feel like that guy got up in the morning and worked for me," he continued, adding, "and if he runs, I'm going to have trouble. I just think we need some younger blood … going maybe a little different direction. It's a tough call."