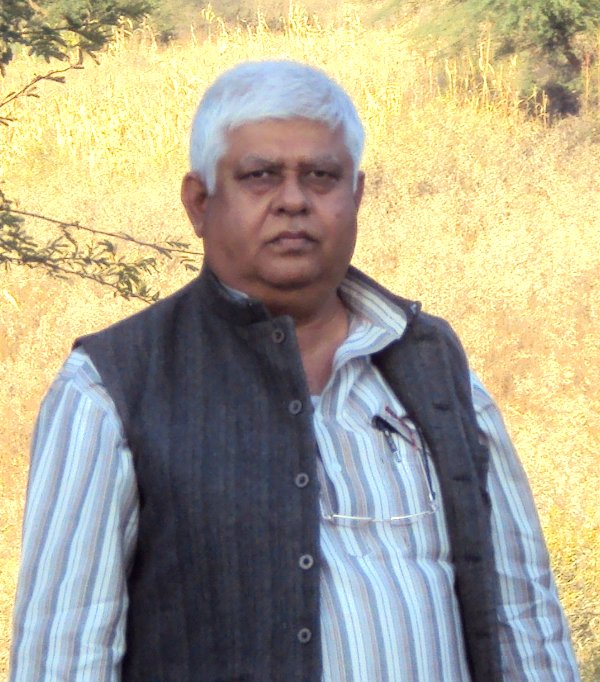 Raja Pateriya is an Indian politician and a member of the Indian National Congress (INC) who made headlines in December 2022 for provoking people to 'murder' Prime Minister Narendra Modi to 'save the Constitution.'
Wiki/Biography
Raja Pateriya was born in 1960 (age 62 years; as of 2022), and he hails from Hatta, Madhya Pradesh. He attended Mahakoshal Science College, University of Jabalpur, Madhya Pradesh, where he dropped out of B.Sc in his second year. He was an active student leader during his college days in Jabalpur.
Family
Parents & Siblings
Raja Pateriya's father's name is Harvansh.
Wife & Children
Raja Pateriya's wife's name is Bakul Raje Pateria, and his son's name is Raja Anand Mohan Pateria.
Caste
Raja Pateriya belongs to a Brahmin Hindu family.
Career
Raja Pateriya's association with INC began in 1971 in Jabalpur while he was studying at a science college. Around 1991-92, he was first elected to the Madhya Pradesh Assembly when he contested and won by-elections from the Hatta Assembly constituency. During the 1993 Madhya Pradesh Assembly Elections, he contested from Hatta, but he was defeated by the BJP candidate Vijay Singh. In 1998, he contested and won the Hatta Assembly seat, defeating the BJP candidate Dr. Vijay Singh Rajput. From 1998 to 2003, he was the state minister for technical education, medical education, and Information Technology in the Digvijaya Singh-led Congress government of MP. Simultaneously, he also was placed in charge of the Panna district. Subsequently, Hatta was declared a seat reserved for the Scheduled Castes (SCs). Therefore, Pateria expanded his reach in Panna and secured a ticket to contest the 2009 Lok Sabha elections from Khajuraho. He contested the 2009 general elections from the Khajuraho Lok Sabha seat, but he was defeated by the BJP candidate Jeetendra Singh Bundela by a margin of over 27,000 votes. In the 2014 general elections, he contested from Khajuraho, but he was defeated by the BJP candidate Nagendra Singh by a margin of 2.5 lakh votes. Later, he started serving as the Vice President of the Madhya Pradesh Congress Committee.
Controversies
Derogatory Remarks on Women
Once, while giving an interview to a news channel, Pateriya was asked if more Congress MLAs could defect to the BJP, to which he allegedly replied,
In this age, one cannot trust his wife, these are still MLAs."
The remark sparked controversy and was condemned by many.
Kill PM Modi Remark
On 13 December 2022, a video featuring Raja Pateriya went viral on the internet in which he urged people to 'murder' Prime Minister Narendra Modi in order to 'save the Constitution'. In the video, while addressing Congress workers in Pawai tehsil of Panna district, Pateria could be heard saying,
Modi will divide people on the basis of religion and jaati (caste). The future of Dalits,  Adivasis, and other minorities are under threat. If you want to save the Constitution, be ready to murder Modi in the sense of defeating him."
The remark triggered a political row as the ruling Bharatiya Janata Party (BJP) attacked the Congress following which an FIR was registered against Pateriya. Thereafter, he was arrested from his residence in Hatta. Later, while trying to offer clarifications he said,
My statement was misunderstood. I did not mean to literally kill the Prime Minister but to defeat him in elections. It was about defeating the government that is the supporter of (Nathuram) Godse's ideology instead of Mahatma Gandhi's."
Condemning his remarks, INC issued him a show-cause notice.
Assets/Properties
Movable Assets
Deposits in Banks, Financial Institutions and Non-Banking Financial Companies: Rs. 16,95,477
Other assets, such as values of claims/interests: Rs. 95,000
Immovable Assets
Agricultural Land: Rs. 43,83,900
Non-Agricultural Land: Rs. 37,80,000
Commercial Buildings: Rs. 60,00,000
Residential Buildings: Rs. 9,00,000
Note: The given estimates of moveable and immovable assets are as per the financial year 2013-2014. It excludes the assets owned by his wife and dependents.
Net Worth
His net worth as of 2014 is Rs. 1,78,51,307.
Note: It excludes the net worth of his wife and dependents.
Facts/Trivia
Raja Pateriya is often referred to as a leader with Samajwadi ideology and is believed to be a part of the Digvijaya Singh camp in the state Congress.
While he was caught in the Kill PM Modi Remark controversy, he said that he idolized Mahatma Gandhi, Jawaharlal Nehru, BR Ambedkar, and Ram Manohar Lohiya.
After facing defeat in the 2009 Sabha elections from Khajuraho, Pateria introduced an organisation called Adivasi – Vanvasi Dalit Mahasangh, which fights for the rights of Adivasis and SCs.